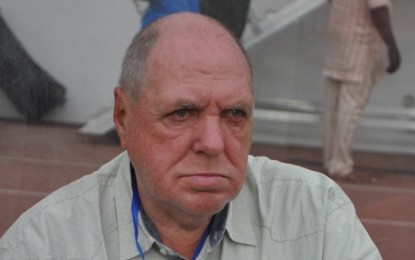 Nigerian Senate receives 2017 Budget report, fixes Thursday for passage
The Nigerian Senate on Tuesday received the report of the Joint Committee on Appropriation
and Finance on the 2017 Appropriation Bill.
Our National Assembly Correspondent reports that the report was laid at plenary by the Chairman of the Joint Committee on Appropriation, Sen. Danjuma Goje.
In his remarks, Senate President Bukola Saraki commended the committee for a job well done and said the senate would ensure the passage of the bill on Thursday.
Saraki commended the committee for laying the report with details, saying it would help speed up the passage of the bill.
"On behalf of our colleagues let me congratulate the committee.
"This is history been made because this is the first time report of the Appropriation Bill will be laid with details.
"Because of that, by tomorrow (Wednesday) you will get hard copies of the report, but the soft copy will be ready today.
"We will distribute them and ensure we pass the bill on Thursday,'' he said.
The 2017 Budget proposal report was laid four days after the expiration of the 2016 fiscal year.
President Muhammadu Buhari had presented a budget proposal of N7.30tn for the 2017 fiscal year before a Joint Session of the National Assembly on Dec. 14, 2016.