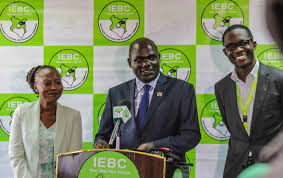 Presidential Poll: Kenyan Electoral body to release final result Friday
The Kenyan Electoral Commission has said the final reults of the just concluded elections would be
announced on Friday.
Residents of Nairobi woke up to reports that incumbent president Uhuru Kenyatta was in the lead in the presidential vote.
The opposition claimed the voting system and website had been hacked to produce a "fictitious" lead for Kenyatta.
At least five people are reportedly dead after demonstrations broke out across Kenya on Wednesday.
Tensions remain high in the country following rumours of election fraud in Tuesday's presidential election.
Raila Odinga reacted to the provisional results earlier this Thursday .
But amid the several claims the European Union's observer delegation has dismissed allegations that the outcome of the poll might have been compromised.
Head of the mission, Marietje Schaake, said her team had not seen any sign of what it described as "centralised or localised manipulation" of the voting process.
She praised the IEBC for conducting a thorough and transparent electoral process, but said she wouldn't comment on allegations of hacking.
Provisional results released by the election commission showed Kenyatta was leading with 54.3 percent of votes, ahead of Odinga on 44.8 percent — a lead of 1.4 million votes with 97 percent of polling stations reported.