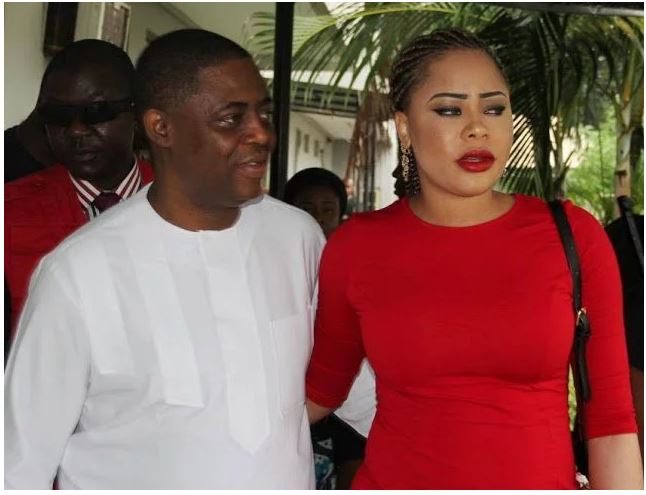 TVC N. The wife of former minister of aviation, Precious Fani-Kayode has explained what emerged between her and the officials of the Economic and Financial Crimes Commission (EFCC) in Ekiti state.
According to Mr Kayode, who took to his Facebook page to express his anger, said his wife and their 8-month-old son Aragorn were detained.
The ex-minister said that Governor Ayo Fayose the people of Ado Ekiti stormed the bank and freed his wife and baby from this illegal detention and attempt to kidnap them.
Since then his family reportedly left Ekiti state. However, Mrs. Fani-Kayode had gone to Ekiti state to visit Governor Ayodele Fayose when she stopped at an Access Bank branch to withdraw some money before she was stopped by EFCC officials.
She told news men that the account she went to withdraw from had been dormant for five years. Mrs Fani-Kayode also said she was badly treated while they denied her baby food.  "I'm not a politician and that account had been dormant for about five years.
I only activated it last month in Port Harcourt. "I decided to go to Access Bank to make some withdrawals when I was detained on the instructions of the EFCC. "They told me the account had been frozen and they were asked by the EFCC to arrest me on the spot."I have been operating the account since 2005 when I was a student in the university. They had earlier frozen my two bank accounts which they have not opened till today and I have been waiting for them to invite me, but up till today, they have not.
"The balance in the account is just N200,000 so I don't know what their interest is. I'm a private person. I have not received any political fund so, why are they trying to starve my family? "That account has nothing to do with politics. This is dehumanising. I had to call the governor to inform him of the development," she said.