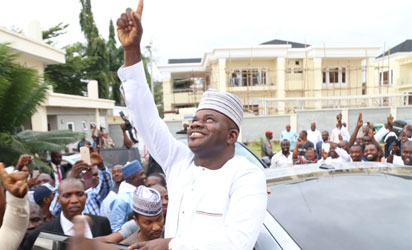 The supreme Court has clarified why the Deputy Governorship candidate of the All Progressive Congress, in the last Governorship election in Kogi State, James Abiodun Faleke, cannot be declared the winner of the poll.
The Apex court held that the law did not support the request.
In the reasons, advanced for the  judgment, delivered on September 20th, Justice Kudirat Kekere-Ekun, held that falake did not obtain nomination form nor  participate in the primary election and as such, cannot  be made the governorship candidate to replace Audu.
Before the sudden death of Audu also, INEC  had already declared the election inconclusive and since the election, had not been completed nor the final result issued by the electoral body, Faleke, as a running mate,cannot claim ?victory in the election.
The Apex court, upheld the substitution of Yahaya Bello to replace Audu because in the face of the law, Bello obtained nomination form, took part in the primary election and came second, unlike Faleke who did not meet that condition.
The Supreme Court said that by virtue of section 221 of the 99 constitution, Bello, having become candidate of APC, and legally sponsored by the same party, can lay claim to the votes of 240,867 cast for the party in the November 21, 2015 election.
The Apex court said that the provision of Section 221, was clear that it is political parties that canvasses votes and be voted for in the Nigerian Election and that it is only candidates duly sponsored by political parties, that can lay claim to such votes of their parties.
The Court therefore dismissed the petition by faleke for lacking merit and upheld the nomination of Bello as a replacement to Audu and his subsequent declaration by INEC as the duly elected governor of Kogi state.