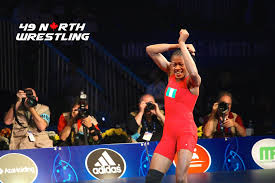 Nigeria female Wrestler, Odunayo Adekuoroye began her campaign in the season Two of the Pro Wrestling League by beating Jaipur Ninjas Betzabeth Arguello16-0 Technical Superiority.
Adekuoroye bagged some amount of consolation for Punjab with a rather one-sided victory over Betzabeth Arguello in the women's 53kg category.
The 2015 World Championship bronze medallist made good use of the leg hold to take an almost insurmountable 12-0 lead in the first period before completing a victory by technical superiority after the break.
Jaipur captain Elizbar Olikadze closed out a superb outing for his team by overpowering Punjab's Krishan Kumar in the men's 97kg division.
Skipper Vladimir Khinchegashvili (57kg) the reigning Olympic champion and the most expensive wrestler this season and Nigeria's Odunayo Adekuoroye (women's 53kg) were the the only bright spots for Punjab yesterday.