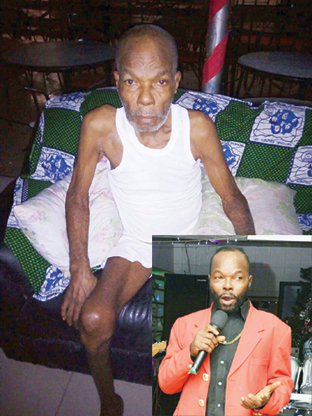 Ailing veteran musician, Tony Grey, needs N10 million for operation
TVC N. Veteran music maestro, Tony Grey, has been laying critically ill for months in the hospital but could nolonger afford the hospital bills and surgery needed and as such needs assistance.
At a time, it was even rumoured he was dead. But the 'Come Back Love' evergreen crooner, who presently resides at Cruz Land,Marine Quarters, Warri in Warri South Local Government Area of Delta state is still battling the ailment and needs funds for necessary medical attention abroad after being diagnosed of prostrate cancer and diabetes.
His son, Houston Grey, told news men, that his father was diagnosed of diabetes but the major ailment was prostate cancer that has to do with the reproductive system.
"Houston Grey stated further that his father has been admitted for over three months at a private hospital in Warri and several operations were carried out on him until it was recently confirmed that he was suffering from prostate cancer."Houston Grey appealed to Nigerians to assist the Grey family in order to bring back the living legend  to his full health.
"Living a happy life of contentment was our family's greatest plan until our father Tony Grey fell sick; everything changed. Our lives and that of dad have been under the mercy of God and the little savings we had and help from our uncle, Emma Grey have all been exhausted in paying dad's hospital bills, clothing us and making sure we feed properly but today we're helpless as we have run out of resources to continue dad's treatment," he said."When asked if they have gotten assistance from PMAN, he said, "we have not received any assistance from PMAN.
I am even surprised that PMAN has not come to our aide despite the fact that my dad was the founder of the Delta State chapter". Tony Grey whose music tracks 'she is my love' 'my message' and 'come back love' were everyone's delight in the 70s and 80s was born over 60 years ago and needs about N10 million for the treatment of prostate cancer abroad. Good Nigerians can make payment into Mr. Tony Grey, Ecobank, 1391001943 and he can be reached on 08023279423.