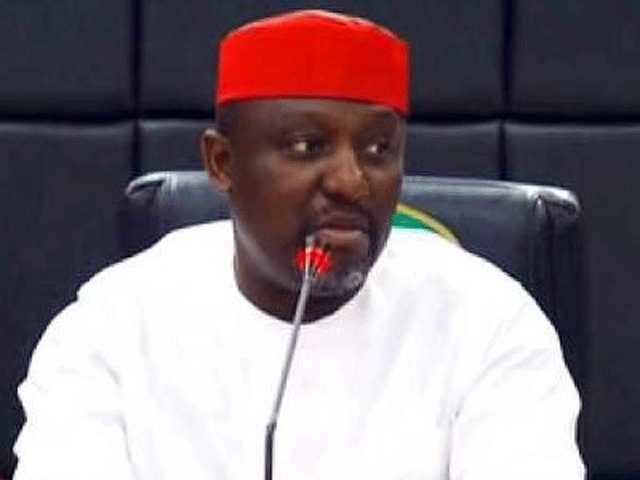 The Imo State government yesterday berated the People's Democratic Party (PDP) and an online news publishers, Sahara reporters for criticizing the newly-commissioned state Airline, Imo Air. The PDP had described the inauguration of the Airline as part of the state Governor's 2019 Presidential ambition. But the government in a statement signed by the governor's Chief Press Secretary, Mr. Sam Onwuemeodo, dismissed the PDP as a "dead party " .
According to the statement, "we also take the floor to tell our audience that as we write, there is nothing like Imo PDP either in the eyes of the law or otherwise. So, any claim purportedly by Imo PDP is fraudulent and should be disregarded by men and women of goodwill". The statement continued that, "the attention of the Imo State governor, Owelle Rochas Okorocha and indeed, the Rescue Mission Government in the State has been drawn to some negative claims in the media purportedly by the Peoples Democratic Party, PDP, in the State and the "Sahara Reporters" against the inauguration of Imo Air, which, its maiden flight was celebrated by Imo people at the Sam Mbakwe Cargo Airport on Tuesday January 24, 2017.
"In the purported report, Imo PDP was quoted to have said through its Secretary, Nze Ray Emeana that the Governor acquired the aircraft for his 2019 Presidential election bid, and then queried the rationale behind the Imo Air Venture when pensioners and workers in the State were owed arrears of Salaries and Pensions. "For the suspicious claims credited to "Sahara Reporters" with regard to Imo Air we do not also believe that such poorly scripted blackmail could come from an organization like that. No reputable media outfit could come up with such Caption like "read, and Read and Read, Imo is a fraud" and without a byline. And they never quoted any verifiable source to back up their Claims. It was totally a frivolous story.
They did the same thing in their unfortunate claim that the Governor had died following a slap by a female ghost few months ago. They also said the death claim was an outcome of investigation by "Sahara Reporters". So, the Management of Sahara Reporters should take steps to evade invasions by some spiritually weak folks whose stock in trade is blackmail.
"We also take the floor to tell our audience that as we write, there is nothing like Imo PDP either in the eyes of the law or otherwise. So, any Claim purportedly by Imo PDP is fraudulent and should be disregarded by men and women of goodwill. "At the moment, there are five factions of the Party in the State with each one having full-blown State – Exco and apex leader and they have been in Court for the Court to decide which of the factions should rightly Claim to be Imo PDP and until the Court makes pronouncement on that, it becomes an absurdity for anybody to be making fictitious media Claims in the name of Imo PDP."