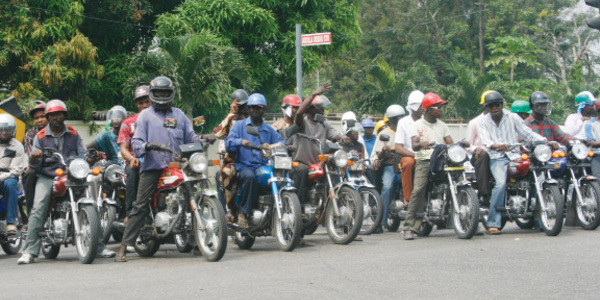 It is now mandatory for commercial motorcyclists, popularly called Okada riders, in Ondo state to wear reflective jackets before they can operate in Akure, the state capital.
This directive was sequel to a meeting between the state police command and government officials, following upsurge in criminal activities perpetrated by motorcyclists.
TVC'S Ayodeji Moradeyo reports that in the last few weeks, many crimes have been committed in Akure, Ondo State
capital, through the use of motorcycles.
Crimes ranging from murder, kidnapping and robbery have been on the increase.
Worried by this dangerous trend, officials of the state government and the police command met on how to curb the menace.
At a joint press briefing in Akure, the state commissioner of police, Hilda Ibifuro-Harrison and the state commissioner for information, Kayode Akinmade issued a five day ultimatum to commercial motorcyclists operating
in the state to always wear reflective jackets.
This step, they say, was taken to curb the upsurge in criminal activities.
The Police boss also announced the arrest of two suspected arsonists in the state and gave the latest information about the attempted abduction of a monarch and his wife in Ikoya area of the state.
The Police boss is delighted with the synergy between the police and local vigilantes which foiled the abduction of the ikoya monarch's wife.
The state police command says it will continue to map out strategies that will assist the force in curbing crimes in the state.