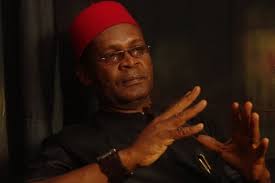 The Publicity Secretary of the All Progressives Congress in Lagos state, Joe Igbokwe has described the Peoples Demcratic Party, PDP as a "dead party" in the state.
Igbokwe in a chat with journalists during the week lampooned the party for attempting to force the Lagos state government to conduct local government elections.
Igbokwe said: "For PDP, they don't conduct local government elections. I know a PDP State that has not conducted local government elections in the last 16 years. Lagos State has been conducting elections since the advent of the Fourth Republic. I do not know why the PDP will be sounding as if something is happening somewhere or as if they have anything to offer.
"By the way, do we still have PDP in Lagos? They are no longer in existence and so, why the noise about local government elections as if they have anything to offer. They sound as if they can win one local government area, if elections are condcuted," the Lagos APC spokesperson said.