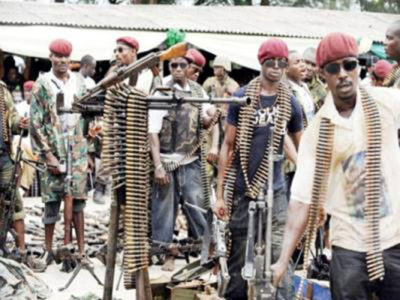 A prominent ex-militant leader, Mr. Africanus Ukparasia, yesterday, vowed to resist renewed threats by the Niger
Delta Avengers (NDA) to begin attacks on oil installations in the region. Ukparasia, formerly known in the creeks of the Niger Delta region as 'General' Africa warned the NDA to stay away from the region, especially his home state of Bayelsa.
The former commander of the Movement for Emancipation of Niger Delta (MEND) reportedly spoke in Yenagoa when he patrolled the creeks of Bayelsa. Ukparasia, who chairs the Bayelsa State Waterways Security Task Force (BSWSTF), said he would not joke with his mandate to secure the creeks of the state and stop the nefarious activities of avengers and their ilk. He said the gods of Bayelsa would not allow avengers to cause chaos, and further degrade the state's environment, noting that his task force was ready to deal decisively with anybody, who tried to turn the state into a theatre of a needless war and destruction of lives and property.