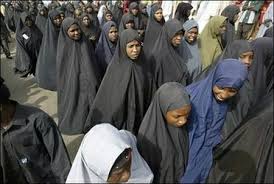 Muslim faithful in Lagos have joined the world to commemorate the hijab day, with the theme "hijab":Honor to the Muslim woman.
the day is celebrated worldwide on every first day of febuary to sensitize muslim ladies on the importance of wearing the hijab.
They believe that the hijab is ordained by Allah and muslims should see it as an act of worship and also as a form of identity.
speakers at the event believe that a Muslim woman should at no time or for any reason, compromise the wearing of hijab especially now that it has become controversial.