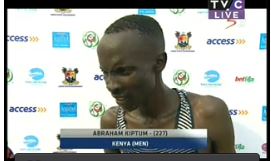 The long-awaited second edition of the Lagos City Marathon has ended with Kenyan marathoner Abraham Kiptum winning the race for the second time.
Kiptum crossed the finish line at exactly 2hrs 15minutes, one minute earlier than his finish time last year.
Speaking with journalists shortly after emerging victorious,  Kiptum said although he had set a 2hr 10 minutes target for himself, he was still happy finishing before last year's time.
Similarly, another Kenyan, Tanuki Todah won the female category of the 2017 edition of the race.
Kenyans dominate the race in both male and female categories, clinching the first, second, third and fourth positions  back to back.