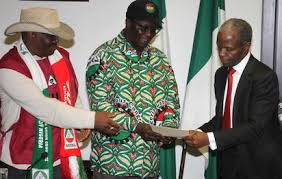 Acting President Yemi Osinbajo has pledged this administration's commitment to taking action on the many demands tabled before government by organised labour.
He spoke in response to an eighteen point demand presented by the labour unions following a demonstration they had led in Abuja to protest economic hardship in Nigeria.
State House Correspondent Mariah Olasehinde reports that it is the second phase of Labour's national action for good governance and the fight against corruption,the first phase having held on the September the 10th , 2016.
And after a street rally to press home their demands, this invitation by Acting President Yemi Osinbajo is the opportunity to share their concerns with him on issues of systemic corruption, disrespect for the rule of law
and indices of poor governance which has pervaded all tiers of government.
On his part, Acting President Yemi Osinbajo expresses Government's commitment to acting on demands presented by Labour noting that Government's primary responsibility is being accountable to the people
The Acting President is enlisting the support of Labour in speaking out against corrupt officials who are making the fight against corruption look like a witch hunt, pointing out that what has constituted the country's major problem, is the looting of its resources.
Labour leaders leave the Presidency assured that Government is listening but with a warning that leaders and workers in all spheres of governance must be honest if the country is to survive.