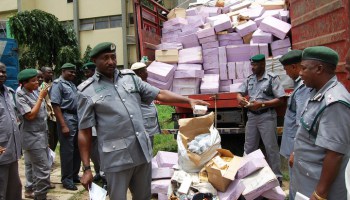 The recent interception of more than 600 sophisticated rifles in Lagos heightens concerns about the Nigeria Customs Service's ability to effectively apply due diligence in cargo examination, considering that scanners at the seaports and the land borders do not function..
TVC News Maritime Correspondent, Ifunanya Eze  sampled opinions on how the poor condition of port scanners and Customs current reliance on physical examination of containers could expose the country to risks.
When reports indicated that the container bearing the cache of rifles imported into the country actually passed customs examination and was duly exited from the seaport, it immediately generated debates over possibilities of other dangerous consignments that may have escaped Customs inspection.
The Customs Comptroller General , HAMID ALLI, admitted that Scanners at the ports are not working and that cargoes will be physically examined even if the procedure will be slow.
The CG's logic has been questioned with the argument that it provides a leeway for dangerous importations.
Many have reasoned that the non-functionality of the scanners in the ports will continue to frustrate trade facilitation as well as fuel corruption through constant human contact during cargo examination.
There have been calls for a total overhaul of the clearing process in the port to avoid future occurrence of containers exiting without proper checks, considering that human error is inevitable with physical examination due to the rigorous nature of the process as shown in the case of the more than 600 pump action rifles.