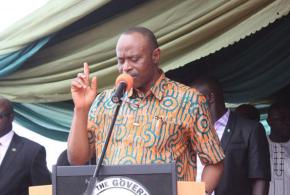 The Ondo state Governor Olusegun Mimiko has finally inaugurated the international event centre known as the "Dome" in Akure, with an assurance that the centre will be a preferred event destination.
The nation's Acting President, Professor Yemi Osinbajo was expected to inaugurate the project but could not make it due to cloudy weather.
This is the second time, the Acting President would not be able to grace the occasion which was initially slated for last Friday.
But Governor Mimiko while speaking at the event, said the state would soon assume the number one status on the tourism corridor in the country.
Explaining its benefits to the public, the Governor said a project of this magnitude will in no small measure, generate income for the state and in turn improve the state's economy which will also affect people's living conditions positively.