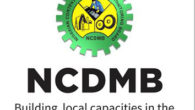 The Nigerian Content Development Monitoring Board (NCDMB) is to set aside $100 million for Project Finance, Asset Acquisition & Contractor Finance under its Nigerian Content Intervention Fund (NCIF).
NCDMB's General Manager, Finance and Accounts, Obinna Ofili, however, did not give details of how the Contractor Finance fund would be accessed because the dis- ccussions, as he put it, was still ongoing.
The Contractor Finance Fund is coming less than a year after the Board sealed a similar deal with the Bank of Industry (BoI). The Board in July last year, signed a Memorandum of Understanding (MoU) with BoI to establish the Nigerian Content Intervention Fund.
The BoI/NCDMB initiative also carries a $100milion value, but it is specifically meant for the manufacturing of components in the oil and gas industry. The interventions are drawn from the Nigerian Content Development Fund (NCDF), which value is put at about $600million, Ofili said.