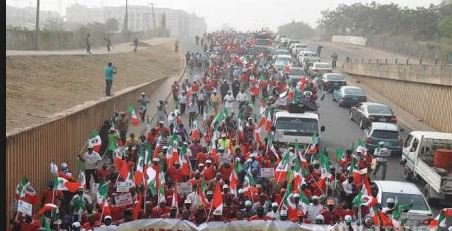 Organised labour in Nigeria took to the streets of Abuja on Thursday , to protest the worsening economic hardship in the country and accumulation of workers salary arrears by some states.
The peaceful protest began at the Unity Fountain and ended at the National Assembly with a promise of action from Nigeria's Senate President.
TVC News Correspondent, Joke Adisa reports that it's the second in the series of rallies in support of good governance and the present administration's crusade against graft.
These protesters say they are not impressed with ongoing efforts by the government to tame corruption and want government to do much more, to reverse the economic hardship which is now more visible in the country.
Unpaid salaries, the clamour for a living minimum wage and resolving the economic recession also top their list of grievances.
Having sensitized their members, the leaders led the march to the Presidential Villa singing solidarity songs.
These two buses eventually conveyed the labour leaders and some newsmen to meet with the Acting President.
The rally took on a carnival,-like atmosphere as the protesters awaited the return of their leaders.
The team returned after some fifty minutes and led the protest to the National Assembly Complex where Senate President, Bukola Saraki received them.
Saraki aligned with the intent of the rally and promised action this time around
Organised labour says it will hold Saraki to his words
The first phase of the rally was held on September the tenth, 2016 and organised labour says the action will be sustained until Nigerians can heave a sigh of relief.