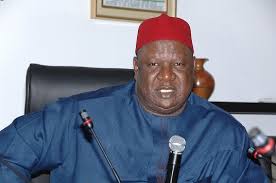 An investigative hearing into the alleged irregularities surrounding the Centenary City Project, turned rowdy as former Senate President, Anyim Pius Anyim accused FCT Committee Chairman, Herman Hembe of lacking the moral standard to conduct the probe.
National assembly Correspondent, Joke Adisa, reports that tempers rose following confrontations between the committee members and their guests at the public hearing.
Conceived by the former President Goodluck Jonathan's administration to mark the country's one hundred years anniversary by January the first, 2014, the Abuja Centenary City was designed as a smart, inter-connected urban centre that draws on the latest technologies.
It is an ambitious project by the federal government to build a smart city, fashioned after Dubai, Monaco and Singapore and was to be built from scratch on a 1,260 hectares piece of virgin land located several kilometres
Southeast of Nigeria's capital, Abuja.
Laudable as the project seems, it has been embroiled in several controversies, all bordering on alleged fraud.
First were the claims by indigenes of the area that they were not given due compensation for their ancestral land.
Investors are also crying foul that the private sector initiative has been hijacked by some former government officials.
But a drama that played out at the event with Anyim accusing Hembe of demanding a bribe to stop the probe and pursuing a personal vendetta, demanding that he step down from the sitting
Also at the hearing, former FCT Minister, Bala Muhammed exchanged words with Hembe and attempted walking out on the committee as he initially declined to be put on oath before his testimony
It also emerged that the two companies which won the construction bid are owned by the same set of persons.
The Committee has adjourned further hearing on the subject matter to next Tuesday.