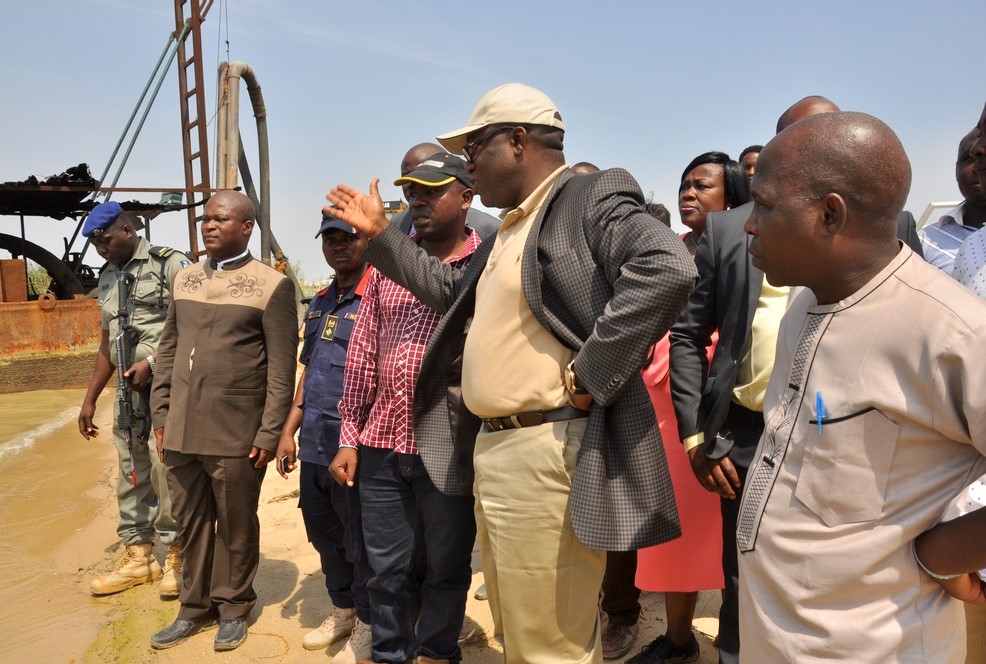 TVC N. The Federal Government has shut three sand mining sites in Lagos State for operating illegally. The development has thrown the owners and workers in the sites into a state of uncertainty as they count their losses.
The sites, located in Ajah-Ibeju-Lekki axis of the state, were closed for not complying with the rules governing the sites. The sites are Naisha, Oretob and Afromedia.
More sites would be shut across the country to sanitise the sector for improved productivity and economic growth, the government warned.
Solid Minerals and Steel Development, Minister, Dr Kayode Fayemi, in an interview with The Nation, said the government decided to close the sites because they had no licences.
Fayemi, who spoke during a tour of the sites, said the failure of the owners of the affected sites to show their approval to the mining officers at the Ministry, meant that the sites would remain close.
He said mining and solid minerals are in the Exclusive Legislative List, this confers the authority to regulate and award licence to operators on the Ministry.
Fayemi said: "The law is clear on the issue. Mining is in the exclusive list. However, there may be reason for the states to be involved in the regulation of the mining areas, by charging fees or putting in place measures to prevent environmental degradation. But the right to closely monitor and regulate the sector is vested in the Ministry of Solid Minerals, of which I'm the Minister.
''The licence for operating the mining sites would be signed by me or officers that are delegated to perform that function in the Ministry.''
According to him, it was only the Ministry that has the right to issue cardesral, which is the operating licence to miners.
He said once a miner has cardesral, he had automatically been given access to mine mineral resources.
He said the Ministry gives access to the contents or the resources in the waters to the miners, while the National Inland Waterways Authority(NIWA) only provides access to the waters.
However, a site operator, Mr Fakumoju Fashola, and his colleagues are unable to come to terms with the state government on the issue of mining of sand in the state.
He wondered why the state government should charge operators N500,000 after they had been licenced by the Ministry of Solid Minerals and Steel.
''My colleagues and have been out of jobs for about a year. The site where we operate has been closed down. The state government is demanding payment of N500,000 yearly, which is subject to renewal from us. There is no basis for paying the money, since Solid Minerals Ministry, the regulator has licence us.'' he said.
He said unemployment and cost of living would increase further, until the federal and state governments proffer solution to the issue.
Miners condition, he said, has been compounded by the closure of the sites, urging the government to temper justice with mercy on the issue.