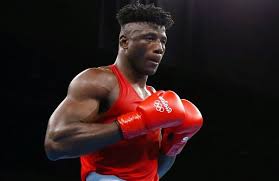 Nigerian boxer Efe Ajagba has quit the amateur ranks for a professional stint in the United States of America.Ajagba, who narrowly lost out in the quarter-finals of the Olympic boxing event to Kazakhstan's Ivan Dychko, had promised last year to go pro.
But weeks and months of waiting for a reputable boxing camp to take him on in the United States finally materialized this week when he left the country in the company of counterpart, Efe Apochi.
Both boxers left Lagos Tuesday night and are now in Houston, Texas.
Apochi and Ajagba were both bronze medalists at the 2014 Commonwealth Games, in Glasgow.
In a Facebook post on Thursday, Apochi confirmed that both boxers had already resumed training under the watchful eyes of their coach Ronnie Sheilds.