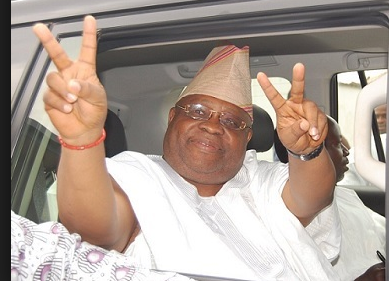 The candidate of the Peoples Democratic Party, PDP, Otunba Ademola Adeleke, has been declared winner of  the  just concluded Osun West Senatorial District by-election.
In the final result announced by INEC in the early hours of Sunday, the PDP candidate, Ademola Adeleke, the younger brother of the late Senator Isiaka Adeleke for whose replacement the election was held, polled the total of 97, 480 votes to defeat the APC candidate, Senator Mudashir Hussein, who scored 66,116 votes to place second.
PDP also won in nine of the 10 local government areas in Osun West senatorial district.
According to the results released by INEC, PDP won in Iwo Local Government Area with 12,547 votes, against APC's 12,205 votes; Ola Oluwa local government with 5, 618 votes, to APC's 5316 votes; and Ayedire local government with 5, 789 votes, to 5, 360 votes scored by APC. PDP also in Irewole local government with 9, 096 votes, against APC's 8,952 votes; Ede North local government with 18, 559 votes, against 2,784 votes polled by APC; Ede South local government with 13, 406 votes, to APC's 2,096 votes; and Ayedaade local government with 9,061 votes, to 7,179 votes scored by APC.
PDP won Egbedore Local Government Area with 7,142 votes, against APC's 4,768 votes; and Isokan local government with 6,539 votes, to 5,227 votes scored by APC.
APC won in only Ejigbo local government with 12,229 votes, to PDP's 9,723 votes.