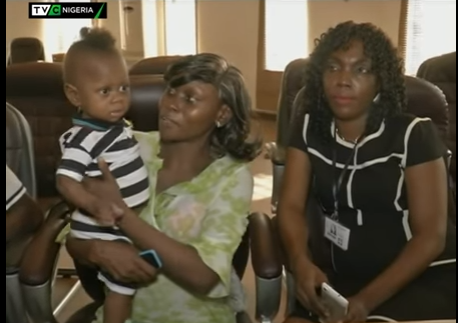 Baby Oyeintari Joseph has returned to Nigeria after a corrective surgery medical trip sponsored by the Bayelsa State government could not be performed because the child must attain the age of puberty for the medical exercise.
TVC had in May reported a baby whose genital was chopped off via a traditional circumcision that went awry in Southern Ijaw Council Area, Bayelsa State.
Correspondent Ovieteme George reports that wife of the Bayelsa State Governor, Rachel Dickson, had on May 12, presented a cheque of six million and travel travel documents to the Michael Joseph family for a corrective surgery on their son abroad.
The family spent two weeks abroad and returned to Nigeria.
The Michael Joseph family and the International Federation Of Women Lawyers are grateful to the Bayelsa State Government for the medical support.
Now in a stable condition, the one year and four months old Oyeintari Joseph must attain the age of puberty before a corrective surgery can be performed.