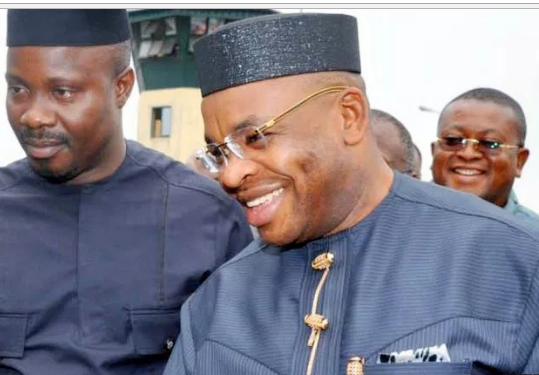 Akwa Ibom State governor, Udom Emmanuel and officials from his state have paid homage to the Emir of Katsina, Dr. Abdulmumini Kabir Usman.The visit was the final lap of events marking the 30th Anniversary of the creation of Katsina and Akwa Ibom states.
This was the Second of such visits as the two states both created on September the  23rd 1987 celebrated  their statehood.
TVC News Katsina State Correspondent, Awwal Ibrahim reports that the governor Udom  Emmanuel and his officials were received by governor Masari and other Officials at the Umar Musa Yar'adua Airport Katsina.
Governor Aminu Bello Masari said the visit by the Akwa Ibom government officials is an indication that the historic relationship between the north and south-south still exists.
On his part,  Governor Udom  Emmanuel said his coming to Katsina state with the entire members of his cabinet, is to show respect and appreciation to the Emir of Katsina for the true sense of leadership he recently demonstrated.  Udom added that issues like inter tribal marriage between People from the two states would further strengthen the existing cordial relationship .
Responding, the Emir  expressed appreciation for the visit. He said in Katsina state there is no issue of settlers quarters, because everyone residing in his domain is his Subject, hence the need for equal treatment.  He was at a loss as to how a Non Governmental Organisations could give quit notice to fellow Nigerians.
Both Governor Masari and the Emir of Katsina were presented with Robes of Honour  and Akwa Ibom state's Compendium by Governor Udom  Emmanuel.