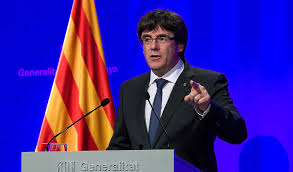 Catalan leadrs calls for mediation to be overseen by E.U.
Catalan leader Carles Puigdemont has repeated his call for mediation with the Spanish government, in order to reach a conclusion in the Catalan crisis.
He first made the call on Monday, when he asked Spain to say whether it was in favour of talks to be overseen by the European Union.
And in his latest address, he said Catalonia is yet to receive a 'positive answer'.
But Spanish deputy prime minister, Soraya Saenz de Santamaria condemned Puigdemont's televised statement, saying the Catalan leader was going against the law.
And Barcelona residents have expressed divergent views over Puigdemont's speech. Some welcomed the speech, saying independence does not mean Catalans are holding a grudge against Spain.
Others criticised him for not mentioning police action against the voters during Sunday's vote.