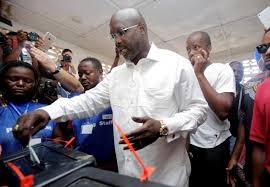 George Weah leads most counties in Liberia presidential election vote
Former soccer star, George Weah leads in early presidential election results in 11 of Liberia's 15 voting regions, National Elections Commission Chairman Jerome G. Korkoya said on Thursday.
Korkoya announced partial results accounting for about a third of the votes counted.
The two top vote-winners from the field of 20 candidates will advance to a run-off in November in the event that no one wins an outright majority.
The other favourite in the 20-candidate field, Vice-President Joseph Boakai, led in just one county, although he was running in second in most others.
Boakai and Weah both signalled they were heading for victory in Liberia's presidential elections, as they waited for early results on Thursday. The final results must be announced by October the 25th.