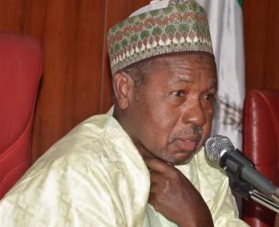 Katsina State Governor has inaugurated a state level committee on restructuring to harmonize the position of people in the state.
He said Katsina is in support of Devolution of powers, but stressed that there is the need for a Strong central government.
TVC News Correspondent, Awwal Ibrahim reports that the governor said one cannot deny the fact that all is not well in the Country, and the word Restructuring has different connotations to different people, but Katsina state still believes in the oneness of Nigeria.
The Governor charges members of the Committee to brainstorm and collect information from people across the state.
The Committee which is comprises of senior citizens in the state, is to be Chaired by a former Civilian Governor of the state and also a former Federal permanent secretary Sa'idu Barda.
The Committee is expected to complete and submit its findings within six Weeks, with the government house expected to serve as it's Secretariat.
It's membership cuts across retired military and civil servants, as well traditional and religious leaders, and also from the Civil society organizations.
Members of the Committee promise to do their best to reflect the true position of people in the state on Restructuring.
The setting up of he Committee is a fall out of the APC Zonal meeting on Restructuring which held in Kano, where Katsina state stated it's support for devolution of powers which would allow States and the local governments more freedom.