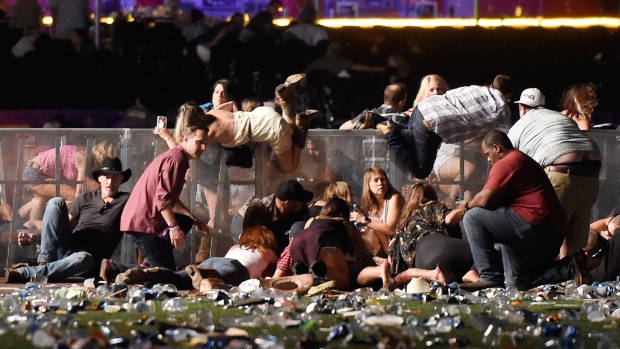 More than 20 dead in Las Vegas shooting – Police
More than 20 people were killed and at least 100 others injured after a gunman opened fire Sunday night at a country music festival opposite the Mandalay Bay hotel and resort on the Las Vegas Strip, authorities said.
University Medical Center spokeswoman Danita Cohen said the hospital is still evaluating the condition of "many patients" with gunshot wounds in the wake of the shooting, but at least 14 were in critical condition.
Police reported that the suspect, a Las Vegas resident whose name was not immediately released, was dead. "Right now we believe it's a solo act, a lone wolf attacker," Las Vegas Metropolitan Police Sheriff Joe Lombardo said. Authorities said the gunman appeared to have begun firing at 10:08 p.m. from the 32nd floor of the Mandalay Bay hotel toward the concert venue across the street.
Officers entered the room and engaged the suspect. "He is dead, currently," Lombardo said.
The sheriff said police are seeking to interview a woman, identified as Marilou Danley, who was believed to be traveling with the suspect. "We have not located her at this time, and we are interested in talking to her for a follow-up," Lombardo said. Two of the dead may include a pair of off-duty police officers who were attending the concert, Lombardo said.
Authorities established a command post and triage center, and shut down parts of the Strip. Police initially investigated reports of a "suspicious device" down the street, outside the Luxor Hotel, but said later there appeared to be no explosive devices related to the incident, other than that used by the SWAT team breaching the room where the suspect was located.
A three-day Route 91 Harvest country music festival performance was underway across Las Vegas Boulevard from the Mandalay Bay hotel when the shooting erupted. Concertgoers reported a burst of weapons fire as a Jason Aldean performance was underway.
The shots appeared to be coming from an upper floor of the hotel, some witnesses said.
The shooting went on for about more than 30 seconds before the music stopped, and another burst was heard later. "Get down, stay down," one woman shouted. "Let's go," another voice said. Another wave of gunshots followed soon after. Seth Bayles, of West Hollywood, said Aldean had been performing for about 20 minutes when he heard shots.
"I thought it was like bottle rockets going off," Bayles said. "Then we saw people dropping. We saw someone get hit and then we started running." Bayles said he was probably 50 feet from the stage when he heard the shots. "We saw people down all over the place." Bayles said Aldean was quickly pulled off stage, and soon after, the band was brought off as well.
Two men near the casino said they heard a helicopter with a bullhorn yelling "Go! Go! Go!" as the incident unfolded. Others said they saw police and SWAT teams streaming into the Mandalay Bay casino. Bernice Allard, who came to the concert with her husband Frank Allard, said there was screaming when the shooting began. "Single shot. Single shot, then a lot of shots," Frank Allard said.