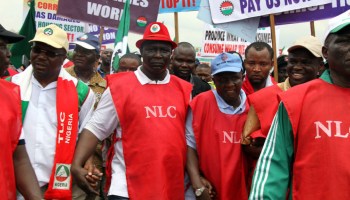 The Nigeria Labour Congress has expressed shock over the death of a senior civil servant in Kogi State who reportedly committed suicide after going several months without pay.
The union says it is going to protest the activities of the Kogi state governor towards its members.
It charged workers from all over the Country and Nigerians to support workers of Kogi state who are presently going through very hard times.
Addressing a press conference after the NLC committee on restructuring submitted its report to the leadership of the congress, NLC President, Comrade Ayuba Wabba, said the congress came to the National Assembly and the Presidential Villa, to lodge complaints about Governor Bello and "his irresponsibility that has reached the highest level."
Describing the situation in the state as very unfortunate, Wabba said "it should be a matter of concern to all Nigerians."
The NLC president said: "The very unfortunate situation that has continued to happen in Kogi State is a matter of concern to all Nigerians.
"Two days ago, we received a very disturbing report of a worker at the level of a director that had to commit suicide because of the fact that he could not take care of his immediate needs."
Wabba stated that he had seen the correspondence where the Kogi State government was claiming that it didn't owe the late director 11 months, but eight months.
"Even if it is one month, it is most unfortunate and therefore, this situation will require our attention, we are going to act very decisively and we are going to respond to the issues," he stated.