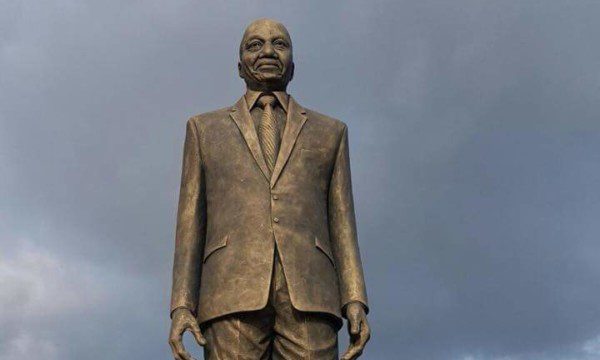 Governor Rochas Okorocha of Imo State has unveiled a statue in honour of South African President Jacob Zuma in the state capital, Owerri.
Governor Okorocha also named a road after the South African leader, in addition to the huge statue on Saturday.
Zuma had been conferred with the traditional title of Ochiagha Imo, by Eze Imo, Samuel Ohiri, a day before the unveiling.
The title certificate was issued by a former President of Nigeria, Olusegun Obasanjo.
Speaking through a statement seen by TVC News, Okorocha said the honour was conferred on Zuma due to his love for education.
"Today, we have decided to honour you for your love for education, though you were deprived in your early days in life but you are working to make sure that every poor child went to School. Your love for education to us is the connection between you and government and the people of Imo State. The only industry we have and we can truly be proud of is education in Imo State. This is another reason why we have chosen to honour you", he said.
Zuma, who spoke after receiving the award urged Africans to address the issues that affect the continent in unity.
"Africans must come together to address African problems. We are the same people. We cannot succeed if we handle problems as individuals. We need to recognize that we are one."
The award comes a few days after another Nigerian, Jelili Omoyele, a 35-year-old, was killed in South Africa.