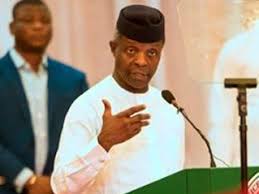 Vice President Yemi Osinbajo on Monday said 50 million people out of the nation's 180 million population have no
access to electricity.
"Nigeria's 180 million people, over 50 million have no power," Osinbajo said in his keynote address at the Financial Times Africa Summit holding in London.
The Vice President told the gathering that as part of the present administration's efforts to diversify power sources in order to improve access, it had started a programme of providing solar power in 20,000 homes in rural villages.
Osinbajo stated that the Federal Government invested N1.3tn in infrastructure in 2016, making it the largest capital spending in the country's history.
He added that the government was ready to increase the figure in the 2018 budget.
He said, "Strong visionary leadership committed to good governance has proved to be critical where our economies have recorded successes. Nigeria earning 60 per cent less revenue than five years ago, last year invested N1.3tn in infrastructure, the largest capital spending in its history and will increase that in the 2018 budget.
"Good governance and prudent management of resources means that you can do more with less. Ethiopia delivered its light rail and within Addis Ababa ahead of schedule and with no cost overruns.
"Rwanda has shrugged off the tragedy of the genocide of barely 20 years ago, delivering on infrastructure and earned its place as the second easiest place to do business in Africa. Ghana is galloping away with GDP growth figures this year of nine per cent.
"Across the entire continent, there is a commitment to providing much-needed infrastructure in the form of power stations, ports, rail networks and roads that not only bring down the cost of doing business, but also actively engage the private sector in funding, operation and or ownership."
Osinbajo said Nigeria recently announced the commencement of the process for the concession of its major airports with a view to attracting world-class investors.
He added that wisdom today was in letting the private sector invest wherever it could and in practically any sector of the economy.
Osinbajo listed the ingenuity and resilience of the people, especially the 70 per cent youth population, leadership and good governance, allowing the private sector and markets to function, focusing on infrastructural development, and the incredible opportunities that abound as some of the factors that make Africa work.
He said in addition to ongoing investments in production and infrastructure, the Federal Government was undertaking extensive ease of doing business reforms.
He stated that the government had worked assiduously to improve the macroeconomic conditions.
After a continuous decline in growth since 2014, Osinbajo said the trend of growth in the Gross Domestic Product had turned around with a modest growth of 0.5 per cent in the second quarter of this year, while inflation, though still somewhat high, had declined from a peak of 18.7 per cent in January 2017 to about 16 presently.
He added, "The outlook going forward is quite positive based on improvements in oil prices and production, and the trend of leading indicators such as positive Purchasing Managers' Indices, a revived stock exchange and increasing foreign exchange reserves.
"Moreover, the uncertainties in the foreign exchange market have abated with the introduction of a new window for investors and exporters, which gives more transparency and guarantees repatriation of funds."