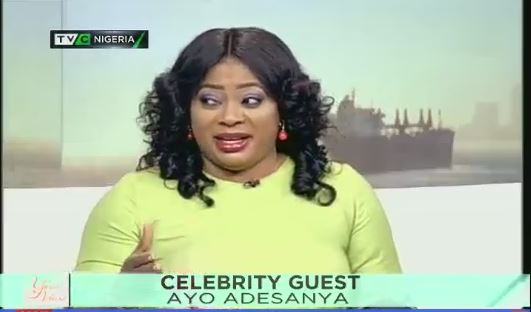 Sexual relationship with Pasuma: No comment, because I have a serious relationship already – Actress Ayo Adesanya
Nollywood actress Ayo Adesanya who celebrated her 48 year old birthday in July revealed on Friday on YourView TVC that, she is in a serious relationship that might lead to marriage and will not say anything as regards her sexual relationship with Nigerian singer Alhaji Wasiu Alabi, porpularly known as Pasuma, when asked by the ladies if she was in a relationship with him and ready for marriage.
Pasuma is a very good friend of mine, very wonderful and a very nice person but I won't say anything about my marriage to him".
Few months ago, Alhaji Wasiu Alabi, divulged some closely guarded secrets regarding his past and his unmarried status during an interview segment with news men.
When asked why he wasn't married yet, he said: "I don't want to rush into it. I would have been married earlier but it didn't work out. The person I was supposed to have married was Ayo Adesanya. I love her so much. Everybody in my family knew her and knew that I wanted to marry her and I am still in love with her."
"You journalists caused it. Nobody outside of my family knew about our relationship then and that was the way we wanted it. But one day we went together to a show and some journalists saw us together and they slammed our pictures on the front page of the newspaper. It was The Fame newspaper then.
Apparently, they had been hearing the rumour but they could not confirm it so they didn't use the story. But this day when they saw us together, they just used the picture, without even interviewing us. When the wahala started, Ayo couldn't handle it anymore. I would call her that I want to see her and she would say she was busy. I could feel it that she was withdrawing from the relationship and I had to let her go."
Did you feel you made a mistake letting her go?
Well, there's something about love. If you love someone, you'd want them to be happy. If their happiness is not with you, you'll have to let them go. She couldn't handle the pressure and she obviously was not happy again. So I had to let her go.
It seems you're still in love with her. Are you?
(Laughs). She's been married and has a child. Although the relationship didn't last.
If Ayo says yes to your marriage proposal today, would you still marry her?
Yes! If she says yes today, we'll head for the altar tomorrow.
 What do you think about this?