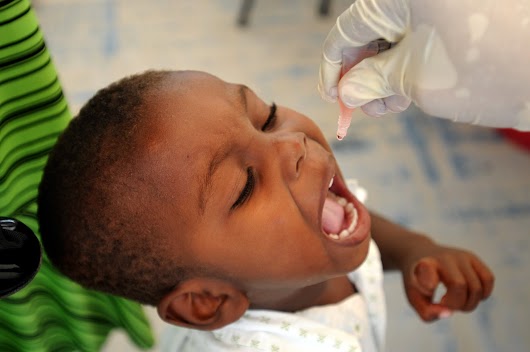 Sierra Leone vaccinates against cholera after deadly mudslide
Sierra Leone recently launched its first-ever Oral Cholera Vaccination (OVC) campaign targeting half a million people, as thousands risk infection in emergency shelters and informal settlements with limited access to clean water and sanitation.
The country is administering the vaccine after suffering one of Africa's worst mudslides in August.
An estimated 500 people were killed when a mountain collapsed on the outskirts of Freetown, capital of the West African country, which is recovering from the Ebola crisis.
Health workers are reaching residents in densely populated settlements in a door to door campaign.
The vaccine is administered in two doses, the first dose begun in September while the second is being given in October.
"Vulnerable communities are the slums area of which people actually attract the diseases at all times so that is why today we are here back in the community just to issue the drugs to our people because the previous one has just finished and this is round two we are taking back to them again today, and we are raising information to them that it is an awareness that they should always receive the medicine in the good faith of which will help them prevent the cholera attack of themselves," said community team leader, Daniel Bob Jones.
The water-borne bacteria is generally not fatal, but it can kill in just a few hours when diarrhoea and vomiting cause dehydration, especially among the elderly.
Sierra Leone's worst recorded cholera outbreak in 2012 killed almost 400 people and infected more than 25,000 others, the government said.
As the cholera vaccine does not provide 100 percent protection, the government is also advising people to wash their hands, boil water and prepare food hygienically.
Santigie Kargbo lost his father to cholera; he says he has made sure all his family members were vaccinated against the disease during this campaign.
"I was with my father when he contracted cholera, he was at Connaught hospital when he died, the family was not happy when we lost him because he is the back bone of the family, when he died there was no one responsible for us, but we are happy about the oral cholera vaccine, I took it because it will help us, I don't want what happened to our father to occur again," said Freetown resident, Santigie Kargbo.
"I've contracted cholera before when I was younger when I was growing up in early 2010, I had it, and it's really a bad disease. I am pleading with everyone whenever there is a vaccine like this, I advise people to take it," said Aminata Kallon.
Schools and health centers, as well as affected camps, are being used to reach as many people as possible with the vaccine.
More than one million doses of the oral vaccine will be administered according to the World Health Organization.
Sierra Leone's public health system is "stretched" after the world's worst Ebola epidemic, the GAVI global vaccine alliance, which is providing the drugs has said.
Ebola killed more than 11,000 people across Guinea, Liberia and Sierra Leone between 2013 and 2016.
"The ministry of health recognizes this as a very important intervention as an added protective measure to people using sanitation measures but also promoting good hygiene practices as a way of preventing the risks of getting cholera in a country that already has a history of having had severe outbreaks," said Dr. Simon Ogwang, head of immunization at WHO, Sierra Leone.
The vaccine has been effectively used in other countries in the past including Malawi, South Sudan, and Ethiopia among others.
Reuters