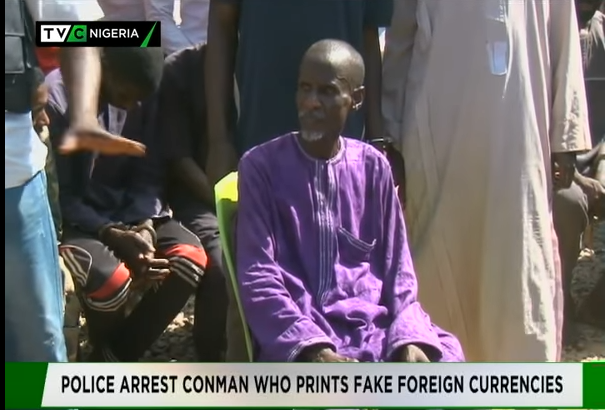 A 75 year-old trickster has been arrested by the police for specializing in the production of fake dollar bills, promising to make his clients rich.Usman Bawa and other suspects were paraded before members of Sabon-Wuse Community in Niger State.
TVC News Sifon Essien reports that at first glance, his comportment bears no sign that the 75 year old is being held by the police for fraud.
He is a trickster who specialises in money doubling and producing fake dollar bills for his clients.  Bawa insists he has done nothing wrong but only uses his sixth sense to con his clients.
He said he carried out his business from a mud house and that the proceeds went into the sustenance of his family.
Bawa and 16 others are to be charged to court by the police for various offences ranging from fraud to armed robbery.
The community is pleased with the arrest and they want the suspects to face the weight of the law.
While commending law enforcement agencies, members of Tafa community said the parade of the suspects by the police will serve as a deterrent to others.