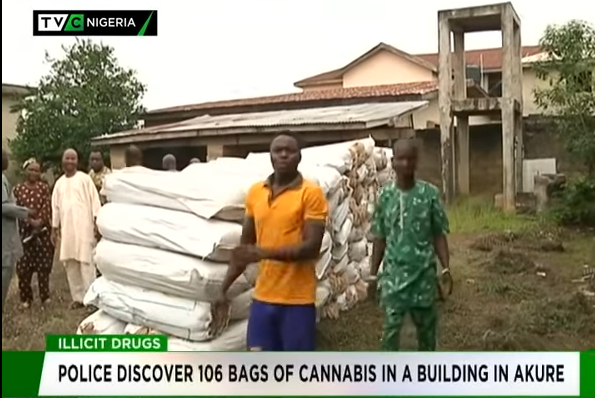 The police in Ondo State has discovered and seized One hundred and six bags of Indian hemp at a residential building, in Akure.
The discovery was made possible by a tip off from some residents of the State capital.
TVC's Ayodeji Moradeyo reports that thes residential building, located in the new town area of Akure, Ondo
State capital, had in store, about one hundred and six bags of cannabis, popularly called Indian hemp.
Though occupants of the building fled the area, the police seized the illicit substance. The discovery was made possible by a tip off from residents of Akure.
The State Commissioner of Police, Gbenga Adeyanju, who led detectives to the area said, a female suspect was arrested in connection with the illicit drugs.
Adeyanju urged the people to supply the command with necessary information that will assist the police in the fight against crimes.
The police commissioner later handed over the seized bags of Indian hemp to officials of National Drug Law Enforcement Agency (NDLEA) in the State.
In another development, the State Police command rescued some kidnap victims from their abductors.