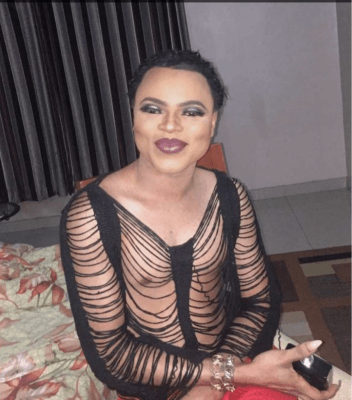 Police ignored officer who raped minor but arrested Bobrisky for being gay – Fan laments
A twitter user took to his page to lament over the arrest of his fan, Nigerian internet personality, cross dresser
and entrepreneur, Okuneye Idris Olanrewaju, yesterday at Lekki. 
Flaw.
@goldenwura 
 said:
"Last month, a policeman abducted and raped a 14 yr old girl for 6 days till her vaj ruptured. The NPF in the state begged the girl's parents to forgive the man because "they're both northerners" Bobrisky is arrested for being 'gay' and suddenly Nigerians know the law. Kmt.
Nigerian internet personality, cross dresser and entrepreneur, Okuneye Idris Olanrewaju was yesterday allegedly arrest for proclaiming his self as gay.
The Snapchat sensation, was arrested in Lekki after his Halloween costumes showed what makes him a woman.
Although, it is still unclear at this time whether his arrest has anything to do with his admission of being gay. Some news sites have made a connection between his fight with Toyin Lawani and his arrest. But as far as we know, that fight was way back in August and Toyin herself has confirmed she has nothing to do with the arrest.
Bobrisky is a figure that inspires both contempt and delight- delight because his Snapchat shenanigans are ratchet; and contempt for those who can't square with his lifestyle choices, cross-dressing, bragging on money and Mr X, insulting celebrities left, right and centre (the most recent being Denrele), etc.
So it was hardly surprising that majority on Twitter find his arrest fitting.
See below:
Where is bae …we mean, his Lawyer?
Bitter much?