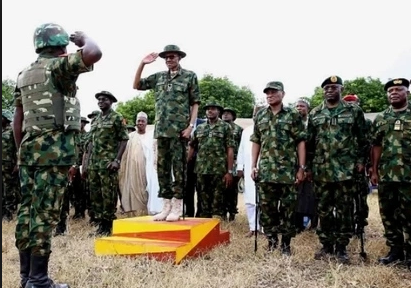 President Muhammadu Buhari has inaugurated the Armed Forces Council, at the Presidential Villa.
At the inauguration ceremony, President Buhari discussed a number of issues with service chiefs.
They talked about the ratifications of the new National Defence Policy, the revised terms and conditions of service officers, and that of ratings airmen.
Defence minister Mansur Dan-Ali said the ratifications will enable the Armed Forces cope with changing security challenges.
The council, established by CAP A20 of Laws of the Federation of Nigeria and Section 4 of the Armed Forces Act is to be responsible, under the general authority of the president, for command, discipline and administration of and for all other matters related to the Armed Forces.
According to a statement by Tukur Gusau, the Public Relations Officer to Dan-Ali, the last Armed Forces Council meeting was held on July 17, 2014.
He said there was the need to convene the council meeting in order to consider matters of great concern to the Armed Forces.