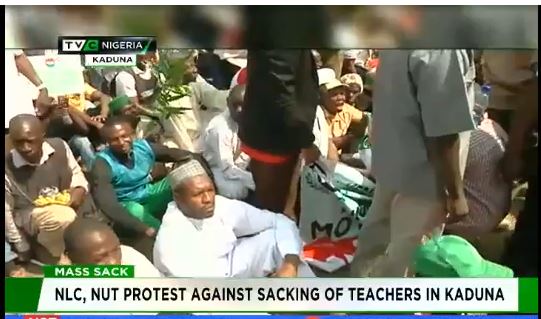 The Nigerian Labour Congress (NLC) led by its president, Ayuba Wabba, on Thursday shut down Kaduna in protest against the sacked teachers and local government workers by the state government. There has been controversy over the mass sack of civil servants, especially the 21,780 primary school teachers who, allegedly, failed the competency test conducted by the state government in 2017.
President of NLC, Comrade Ayuba Wabba, and other union leaders, shortly before they led their members to the streets on a peaceful protest, expressed worry over the threats issued to workers by Governor Nasir El-Rufai and Commissioner of Police  Agyole Abbey, restraining them from embarking on the planned protest. According to Wabba, in 2012, Governor El-rufai joined the struggle and wore labour T-shirt and cap; "after using protest to achieve his ambition, he cannot come and deny citizens. If we don't respect the rule of law, then, we are working towards anarchy."
"We're here today, to stand by Kaduna workers. I've also seen presidents and general secretaries of all our industrial unions here to support Kaduna workers. Let me, once again, salute Kaduna workers who have come out in large numbers despite the intimidation and the use of maximum force, including bullets, to stop us from the entering into Kaduna.
"I'm aware about 8,000 forces, including the military, police and civil defence were deployed this morning to intimidate us and use maximum force against us. I'm also aware that a lot of workers were intimidated and others shot.
"Our leader in ASUU movement, Dipo Fashina, who is leading the intellectual angle of our discuss, on his entry into Kaduna, was manhandled. This is not the democracy we bargained for. Democracy is about the rule of law and respecting human beings. In the history of our movement, this is the only time that maximum force has been used to intimidate workers for fighting for their rights.