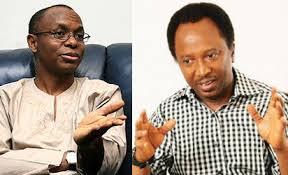 The National Working Committee of the All Progressives Congress (APC) has set up a three-man committee led by the Deputy National Chairman, Segun Oni, to embark on a fact-finding mission to Kaduna State.
This is aimed at identifying the remote and immediate causes of the disagreement that led to the demolition of the house of Senator Suleiman Hunkuyi.
The committee is to report back to the National Working Committee within a week.
It would be recalled that the chapter has been embroiled in clash of interest between Senators Suleiman Hunkuyi and Shehu Sani, and the state governor, Nasir El-Rufai.
Meanwhile, as the crisis deepens with Senator Suleiman Hunkuyi as casualty, the Senator representing Kaduna Central Senatorial district, Shehu Sani reported Kaduna State governor to the Senate on Tuesday.
Speaking through order 43, Sani explained that the governor of Kaduna State, Mallam Nasir El-Rufai has demolished Senaror Suleiman Hunkuyi's house in Kaduna without notice and for no reasons.
Sani stressed that El-Rufai was emboldened by claims that he was on the side of President Muhammadu Buhari to do whatever he liked.
"Mr. President, distinguished colleagues, Mallam Nasir El-Rufai has said repeatedly that he has the nod of President Muhammadu Buhari to do whatever he likes."
Stating firther, Sani said: "Mr. President, distinguished colleagues, I recall that my Constituency office was attacked 11 times and unfortunately, Military and Police personnel were used in these attacks", he said.
"Because we set up APC office outside El-Rufai's personalised office, he demolished the building without notices, Sani said."
Reacting, Deputy Senate President, Ike Ekweremadu, cautioned that rule of law must prevail, no matter the circumstances.
He noted that immunity for the governor must not be abused nor used to dent the nation's democracy.
Senator Hunkuyi represents Kaduna North Senatorial district and has been at loggerheads with governor El-Rufai on party matters in the state.
Meanwhile, the Kaduna state government had on Tuesday explained why the factional APC Office in the state was demolished. The governor, through his spokesperson stated that the demolition has nothing to do with what it was used for, rather because it violated the state's town planning procedures.