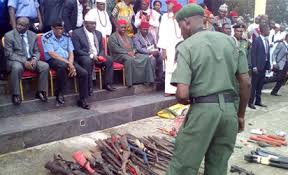 More than 200 Niger Delta militants who have been terrorizing communities in Imo State have surrendered their weapons to the government.
The militants said they were involved in the dastardly act because because they found no jobs .
They accuse the oil companies operating in their communities of being insensitive to the people's plight.
Governor Rochas Okorocha expressed happiness that the boys have finally decided to come back to normal life.