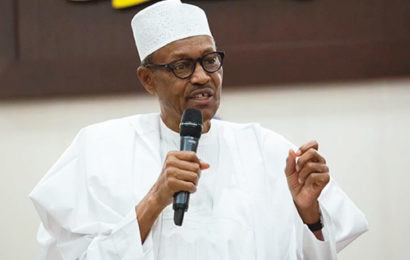 President Muhammadu Buhari has pledged to ensure all persons abducted by Boko Haram are rescued, this is as parents of the 110 girls kidnapped from their school in Yobe await good news.He made this promise when he received the three rescued lecturers and ten wives of police officers recently released by Boko Haram at the Presidential Villa Abuja.
Statehouse Correspondent Tai Amodu reports that the abduction on June 20th last year of ten police officers wives and the brutal killing of six others on a spot along Damboa road, while heading for a burial in Askira Uba local government of Borno State, had shaken the nation
As if that was not bad enough, three university staff on an official mission to explore the possibility of the exploration of oil at the Lake Chad Basin, were also abducted.
The incident had put a black mark on achievements of this administration in terms of security, and President Buhari in a bid to show that government treasures the lives of its citizens had directed the security agencies to do everything humanly possible to ensure the safe release of all under hold
of the insurgents.
This had resulted in the rescue on the February the 10th this year, of the two groups in the custody of the Insurgents, much to the relief of the President
Briefing the President, the Director General of the Directorate of Security Services, said Security agencies chose the path of negotiation in the rescue of the abductees because it was considered that any forceful attempt to rescue the victims could endanger their lives.
Speaking on behalf of the rescued abductees, one of the lecturers, expressed gratitude to the President for their rescue which had come at a time they had all lost hope
And while the rescue of the two groups of abductees may be considered measured success in the bid to rescue all in captivity, it does little to ease the damper in spirits, the 103 girls recently abducted from Government Science and Technical Girls College, Dapchi, Yobe State, has put on the
nation.  Their safe rescue is now a burden President Buhari must bear until success is attained.
But the rescue of the Dapchi schoolgirls might be hampered by wranglings between the Yobe State government and the military.
Governor Ibrahim Geidam is blaming the military for the attack, and now a statement which bears the signature of the army's spokesperson says the military is no longer going to get involved with security in Dapchi.