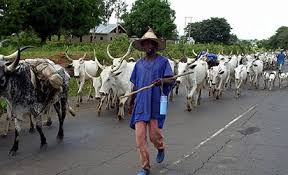 Adamawa State chapter of Peoples Democratic Party (PDP) has advised government at all levels not to treat with kid gloves, the persistent attack on farmers by herdsmen in the state. Leading a delegation of local government party executives on a sympathy visit to victims of the recent attack at Simba in Song Local government, Hon. Chubado Murtala Modibbo commended security agents for promptly arresting some perpetrators of the recent attacks in which more than 40
persons lost their lives on both sides.
Owolabi Adenusi reports that Moddibo said governments at all levels owe citizens the social responsibility of protecting their lives and property, adding that government needed to show the political will to ensure that justice is dispensed without bias.
He advised the victims not to take the law in their hands in form of reprisal attacks, but should rather take the unfortunate incident as an act of God.
Some of the visitors called on other good spirited individuals and governments to come to the aid of the victims.
According to them this is not a time to apportion blames, but a time for government to take a bold step to safeguard its citizens.
Other stakeholders lamented that victims in the affected communities remain too terrified to return to their ancestral homes.
Narrating their ordeals, some victims said they have lost their means of livelihood. They called on government to assist them.
The attacked communities in Dunme have turned ghost towns as the residents fear that they could come under a fresh round of attacks.