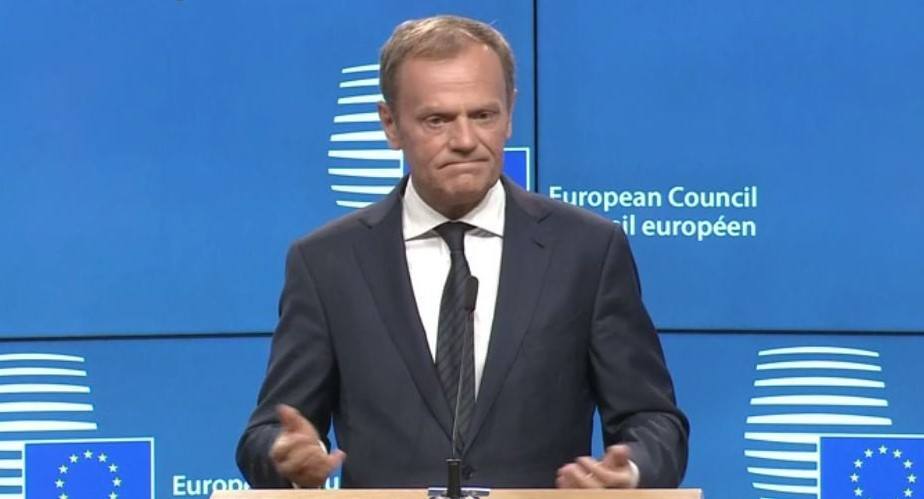 EU President slams UK's Brexit plans as 'pure illusion'
European Council President Donald Tusk on Friday rejected reported plans for post-Brexit relations with the UK as "based on pure illusion."
Earlier in the week, British Prime Minister Theresa May's cabinet reportedly agreed on a policy of "managed divergence" from the EU following an eight-hour meeting. May is due to unveil the plans in a speech on March 2.
It is reported that the UK government is seeking to maintain frictionless trade in certain sectors by aligning itself with EU rules, while retaining the right to diverge in other areas in order to gain a competitive advantage in the international marketplace.
At a press conference following a summit in Brussels, Tusk told reporters that if the British government's policy on building post-Brexit trade relations with the EU is real, it is proof that London still wants to have its cake and eat it when it comes to leaving the EU's single market and enjoying its benefits.
"If the media reports are correct, I'm afraid that the UK position today is based on pure illusion. It looks like the cake philosophy is still alive. From the very start it has been a key principle of the EU27 that there can be no cherry-picking and no single market a la carte. This will continue to be a key principle, I have no doubts," he said.
Tusk, who will travel to London for a meeting with May next week, added that the EU will adopt draft guidelines on post-Brexit relations with the UK at the March 22 European Council summit.
Britain was excluded from Friday's informal summit on the future of the EU, which focused on the bloc's budget and leadership after Brexit.
According to reports, leaders from the EU27 reached a consensus as to the EU Parliament seat distribution after Britain departs, agreeing to cut the number of seats from 751 to 705.
However, there was no agreement on the next seven-year budget.