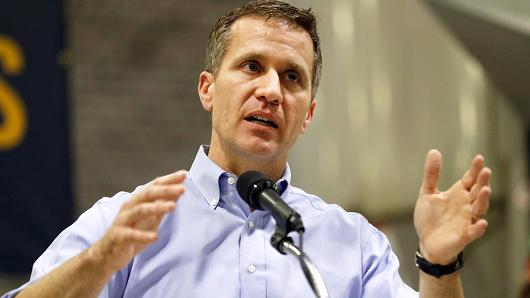 Missouri Gov. Eric Greitens indicted on felony invasion of privacy charge
Missouri Governor, Eric Greitens was briefly taken into custody on Thursday after being indicted on a felony invasion of privacy charge in connection with an extramarital affair and a blackmail allegation involving the Republican politician.
Kimberly Gardner, the top prosecutor in the city of St. Louis, said in a statement that the indictment involves an incident that took place on March the 21st, 2015.
Greitens said he did not break the law and that the charge was a "misguided political decision" by a "reckless liberal prosecutor."
Greitens admitted to having an extramarital affair with a woman before his election in November 2016, but has denied he tried to blackmail her to keep it a secret.
News of the indictment sparked calls for Greitens' resignation or impeachment by some state lawmakers, including at least one Republican.
If convicted, 43 year old Greitens faces up to four years in prison and/or a $5,000 fine.