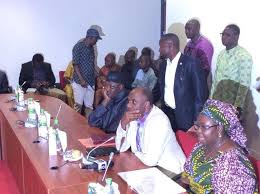 The National Assembly Joint Committee on Land and Transport has asked the Ministry of Transport for details of the N10bn budgeted for the purchase of solar-powered mass transit vehicles meant for upgrade of public transportation across the country.TVC News National Assembly Correspondent Sumner Sambo reports that Senators and members of both Chambers of the National Assembly are at this joint committee of the Senate and House of Representatives on Land Transport for a budgetary hearing.
The federal lawmakers grilled Minister of Transportation, Rotimi Amaechi on inadequate budgetary provisions for Railways.
They said the poor fund releases may affect railways and other projects of the ministry. Also, some lawmakers sought to know why about $10bn (ten billion naira) budgeted for purchase of solar-powered mass transit vehicles for distribution to transporters are yet to be bought under the 2017 budget.
But lawmakers remained unsatisfied with Amaechi's answers. They asked for details while also asking for updates on state of rail projects.
Amaechi later told lawmakers that the monies required for rail in Nigeria is in trillions of naira and that budgetary provisions cannot cover for such massive projects alone.
He said this is why there was need for foreign loans that require rigorous funding mechanisms and why the federal government should not be blamed.