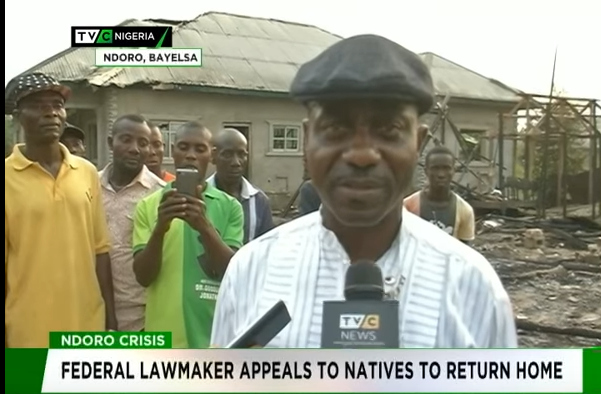 A member representing Sagbama/Ekeremor federal Constituency in the House of Representative, Fred Agbedi has called on the people of Ndoro community to return home after a military onslaught which led to the death of a militant "General Karowei", accused of beheading an Intelligence Officer.
Commending the military for restoring peace in the area, Agbedi lamented the hardship the Ndoro people suffered while the exercise lasted.
The lawmaker disclosed this when he visited the affected community to see things for himself.
TVC News Correspondent, Ovieteme George, reports that the agrarian lifestyle of the people was halted on January the 3rd when according to the natives, an ex-militant arrived the community after
beheading an Intelligence Officer.
Ndoro and other communities were inaccessible when the military moved into the area and engaged the militants whose leader was later shot dead.
Life is gradually returning to Ndoro but vestiges of confrontation remind the people of a painful experience they will never forget in a hurry.