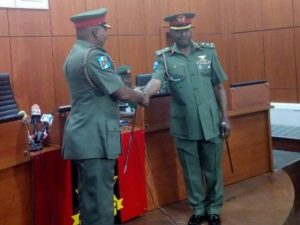 The newly appointed spokesman for the Nigerian Army, Brigadier General Jude Chukwu has formally assumed office following a short ceremony at the Army Headquarters.
Brig. General Chukwu promised to be steadfast while making information management of the service more transparent.
The outgoing spokesman, Brigadier General Sani Usman proceeds for an Executive Course at the National Institute for Policy and Strategic Studies.
Brigadier Chukwu is coming onboard as Army Spokesman at a time the whereabouts of 110 Dapchi schoolgirls is yet unknown.