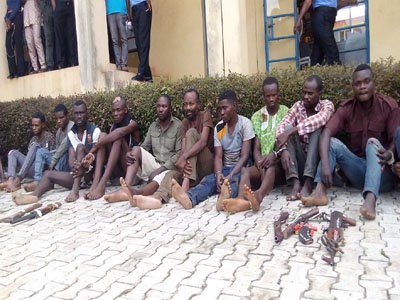 Suspected Armed robbers who had allegedly terrorized the Bodinga axis of Sokoto state over the past five years have been arrested by men and officers of the Sokoto state Command of the Nigerian Police. Parading the suspects alongside other suspected criminals operating in the state the state Police Public Relations Officer PPRO, Nwawe Cordelia said the arrests were achieved following the concerted efforts of the men and officers of the command through intelligence gathering.
Ahmadu Abubakar is the ring leader of this suspected five man gang of armed robbers who have allegedly been terrorising the Bodinga axis of Sokoto state.
He says he was formerly engaged in the charcoal business in far away  Kwara state before he was lured into robbery by his friend and colleague Ali, who promised to introduce him to a more lucrative business in the north
But the Sokoto police command  says, the suspect belongs to a band of suspected criminals who have operated in the Bodinga axis over the past five years.
According to the command, the suspects rob, rape,  kidnap victims and had made life miserable for the people of Bodinga before they were arrested by the police.
Chidozie Julius and Emmanuel Joseph were also arrested and paraded for dealing in substances suspected to be  cough syrup containing codeine within the Sokoto metropolis.
The new  commissioner of Police in Sokoto state,  Murtala Usman Mani said he has done the crime map of the state and he will ensure there is no hiding place for any criminal operating or  intending to operate in the state.