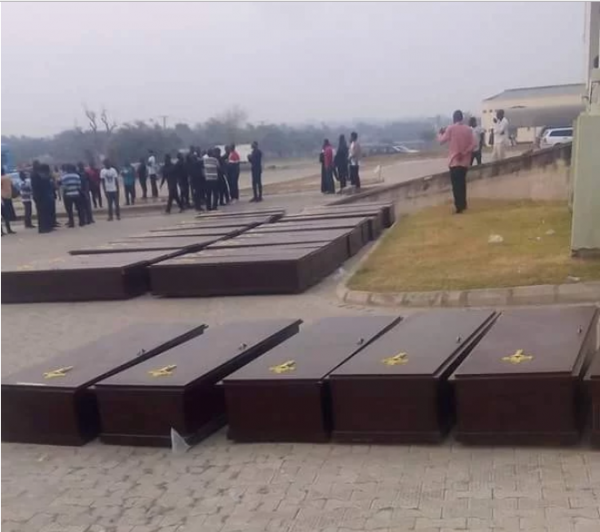 Benue State Governor, Samuel Ortom says 24 persons killed in the attack on Okpokwu community by Fulani militia on Monday, would be given a mass burial on Friday.
Earlier, Benue State Police Command spokesman, Moses Yamu, said four suspects have been arrested in connection with the killing.
He said the attack was a reprisal after some youths in the community attacked Fulani herdsmen and 'maimed' some cows. The victims are mostly women and children.
Governor Samuel Ortom, who spoke on plans by the Benue State Government to hold the mass burial for the 29 persons who were massacred Monday evening in an attack on Omusu village in Okpokwu Local Government Area of the state, also demanded the arrest and prosecution of the suspected herdsmen. Fourteen of the victims were women while two were children.
The attackers had invaded the community after they reportedly lost their cattle and two herdsmen.
Last January, the state buried 73 persons who were allegedly killed by herdsmen in two local government areas.
The governor, described the attack as unfortunate, saying such barbaric acts were unacceptable in the 21st century. He reiterated his call for the arrest of the leadership of Miyetti Allah Kautal Hore whom he said were sponsoring the Fulani herdsmen militia and still moving freely in Abuja and giving directives to the mercenaries.
While directing the State Emergency Management Agency (SEMA) to immediately provide relief materials for the displaced persons, Ortom appealed to the community not to embark on reprisals, stressing that the security agencies had been mobilised to forestall further attacks on the community.
The governor visited St. Mary's Hospital, Okpokwu, where the injured were being treated and proceeded to the general hospital in the town where the bodies of dead victims had been deposited.
The governor had initially announced that 24 were killed in the Monday attack, only to get to the hospital where another three victims had died from their injuries.