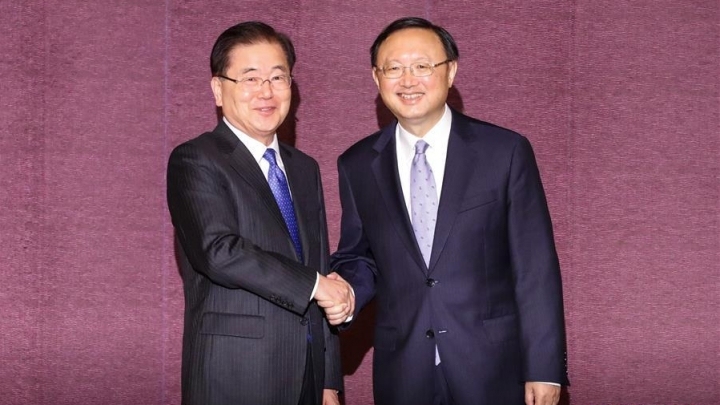 China, South Korea vow to promote political settlement of Korean Peninsula issue
Chinese President Xi Jinping's special representative Yang Jiechi held talks with South Korean President Moon Jae-in at the Blue House in Seoul on Friday, with both sides pledging to promote a political settlement of the Korean Peninsula issue.
Yang, a member of the Political Bureau of the Communist Party of China Central Committee and the head of the General Office of the Central Committee for Foreign Affairs, extended Xi's greetings to Moon.
He said the aim of his trip is to implement the consensus reached between the two heads of state and enhance bilateral relations and strategic cooperation.
This year marks the 10th anniversary of the establishment of the China-South Korea strategic cooperative partnership, Yang said, adding that China is willing to work together with South Korea to bring forward a healthy and stable development of bilateral relations.
Yang expressed the hope for continued leading and guiding role of the summits of the heads of state of both countries, strengthened political communications, solidified mutual strategic trust, deepened mutually beneficial cooperation as well as accelerated cooperation and more alignment concerning the Belt and Road Initiative.
Yang informed Moon about the visit of the top leader of the Democratic People's Republic of Korea (DPRK) Kim Jong Un to China, saying that China has long supported the denuclearization of the Korean Peninsula. He added that China supports maintaining peace on the peninsula and settling conflict through dialog.
Stressing that the Korean Peninsula is at a critical point, Yang said tensions are easing and the overall situation could turn around for good. He urged all parties involved to promote smooth talks between the South Korean and DPRK leaders as well as the DPRK and U.S. leaders in order to reach a political settlement on the Peninsula.
China is willing to work with South Korea on achieving denuclearization, and maintaining peace and stability on the Korean Peninsula, Yang said.
Moon asked Yang to convey his congratulations to Xi on his election as Chinese president.
He said the South Korea-China strategic cooperative partnership has maintained a good momentum, adding that he expects bilateral relations to advance this year.
South Korea speaks highly of China's successful hosting of Kim, Moon said. He added that South Korea lauds China's constructive role in resolving the Korean Peninsula issue, and appreciates the country's contributions to de-escalating tensions on the peninsula.
The president said South Korea is willing to enhance coordination with China and together safeguard peace and stability on the Peninsula and that only dialog can resolve any outstanding issues.
Yang also met with Chung Eui-yong, top security adviser for the South Korean president and South Korean Foreign Minister Kang Kyung-wha during his visit to Seoul.