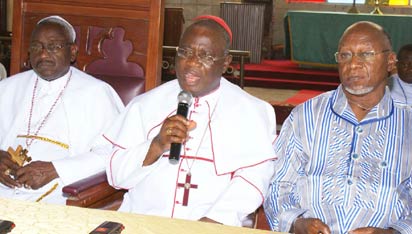 Prelate of the Methodist Church of Nigeria, His Eminence Samuel Uche has kicked against policy flip-flops and partial directives given to policemen by the Inspector General of Police, to tackle insecurity.Speaking with journalists in Abuja on Monday, the prelate warned politicians not to set Nigeria on fire through inflammatory comments.
He passed a vote of confidence on the military despite their challenges but said the police needs to work harder.
TVC News Senior Correspondent Sumner Sambo reports that the Prelate Samuel Uche is on an apostolic tour of the Abuja archdiocese of the Methodist Church. After his one week tour of duty, he addressed journalists on the state of the church and the nation.
After analyzing the insecurity across Nigeria, he tackled the Inspector General of Police, Ibrahim Idris for not working hard on intelligence and community policing to tackle deadly herdsmen militias across the country.
On the calls for self-defence by citizens as canvassed by General TY Danjuma, he called for caution on utterances by politicians asking them not to further inflame the matter.
Advising the federal government to curtail the rising hunger and illiteracy across Nigeria, the church leader also commended President Muhammadu Buhari for his huge investment in infrastructure.
The Methodist Church has 74 dioceses across Nigeria and one council with about 80 bishops.
The Church said as part of its investment in people, it has 27 hospitals across Nigeria that have been mandated to treat people at highly subsidized rates especially pregnant women and children.